News Collyer's Christmas Teddy Bear Auction
17.12.2020
As part of this year's charitable Christmas activities, The RCU (Richard Collyer students Union) has raised over £75 from the auction of a teddy bear, kindly donated by Vicky Attwell. Vicky, from Collyer's study support team, has been busy crocheting to raise funds for key charities, helping them to cope during these challenging times. She crocheted the NHS themed bears with removable mask and cap, and mask adjustors, for local hospitals during the summer and thought it would be a good idea to auction a bear for charity this Christmas.
RCU Manager Karen Stanton, who helped co-ordinate the project with the students, was delighted: "Big thanks to Vicky and to the RCU students for making this possible. The money will now be donated to St Catherine's Hospice."
The successful bidders for the bear were the college's Business Studies department.
Head of Business Studies and Assistant Director of Business Faculty, Roger Raymond said: "We were delighted that our bid was successful and we are delighted to welcome the bear to the department. We just need to agree to a name!"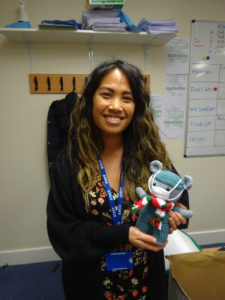 Business Studies Teacher Lani Douangchak added: "The business department are happy to support such a great charity – the bear will take pride of place in our office!"
Principal Dan Lodge said: "The St Catherine's Hospice is an incredible charity and we are delighted that the RCU chose to raise funds for them this Christmas."
In addition to the money raised for St Catherine's Hospice, the RCU have also been supporting the "Love in a Box" charity, with the Collyer's community managing to fill 50 boxes full of gifts for young people at the YMCA.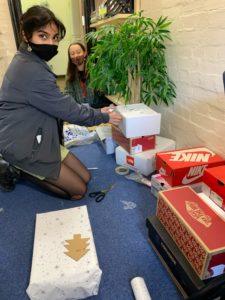 Deputy Principal Steve Martell said: "All within the Collyer's community could not be prouder of this creative and inspiring charitable work!"