OCA NEWS OCA President's Blog May 2022
25.05.2022
It was a great pleasure to welcome back a large number of Old Collyerians and their guests at our recent Founder's Day service at St Mary's, Horsham on 13 May, held to mark the centenary of the Old Collyerians' Association.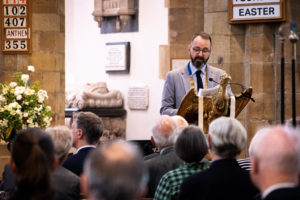 The sunshine of a May morning was happily much in evidence as we filed into the church while the accomplished musicians of Collyer's Sinfonia played some introductory pieces.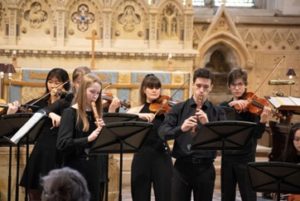 In a service which had been carefully co-designed by the OCA and the college, we revisited the traditional elements of Founder's Day (including readings, hymns and a rendition of the Collyer's School Song), while also looking to the future. Speeches from Principal Dan Lodge, Chair of Governors and Chair of Horsham District Council David Skipp, and myself as current OCA President looked ahead to further milestones such as the fiftieth anniversary of Collyer's transition to sixth-form college, upcoming in 2026, and the quincentenary of the foundation of Collyer's in 2032.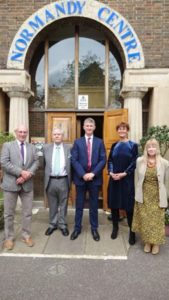 After the service, a buffet lunch was held at the nearby Normandy Centre where a small exhibition of OCA-related photos and artefacts was displayed and where different generations and cohorts of OCs and their guests were able to mix and share memories and current plans.
We were delighted that in addition to current Principal Dan Lodge, four former heads of Collyer's were able to join us: Michael Marchant, David Arnold, Jackie Johnston, and Sally Bromley to whom we were delighted to present a gift from the OCA marking her very successful time as Principal and close collaboration with us.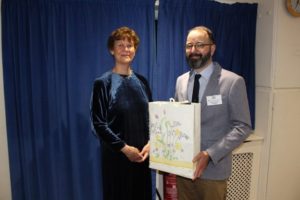 There are more high-profile events to come in this centenary year for the OCA. You are warmly invited to join us at our tour of Mercer's Hall on Friday 8 July, at our visit to Christ's Hospital School on Thursday 22nd September, and of course at our Centenary Year Reunion Dinner on Saturday 19th November. Please see the Upcoming Events section of the website for further details. The OCA Committee very much look forward to seeing you at as many of these events as you wish to attend.
Roger Dalrymple, May 2022