News You're Hired!
28.01.2021
Recently Collyer's welcomed back Lauren Monk (Co-Founder and Head of Operations, Working Options in Education) to the college, via Zoom, for a live session focussing on her career journey and employability. Lauren took part in a lively and entertaining Q&A with Deputy Principal Steve Martell and his Employability students, modestly charting her successful, eclectic career journey, offering candid advice about how students can compete in the future and develop strong resilience strategies. Lauren also answered questions on teamwork, personal branding, coping in difficult times, role models, a day in the life running an educational charity and her plans for the future. The final year students who attended the session were those currently studying the college's innovative and highly rated Employability programme.
Collyer's Deputy Principal Steve Martell, who teaches the course at the Ofsted Outstanding Sixth Form college, said: "It was incredibly generous of Lauren to accept our invitation and give up so much of her valuable time to prepare for, and take part in today's session. Lauren and the brilliant Working Options in Education charity have given our students superb support over the past 4 years. We are colossally grateful to Lauren and her team for inspiring our students to meet their potential in the workplace."
The Working Options in Education charity's aim is to help young people to aim high and fulfil their potential, offering free delivery to schools, colleges and online through well-established links with employers. The charity offer young people multiple interactions with employers including expert insight from industry, skills workshops, online content, access to industry events, work experience and placements.
Lauren Monk said: "Collyer's are ahead of the game and the employability work Steve and the team are doing with the students in this area is outstanding."
Steve Martell added: "Lauren's witty, down to earth and inspirational delivery proved incredibly popular with our students. She is a natural educator."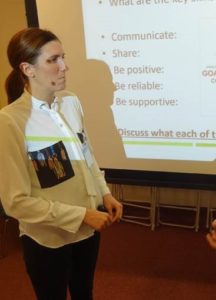 (Photo shows Lauren supporting an event held last year)