News Charles Makes A Splash at Regional Swimming Championships!
15.11.2023
Collyer's student and Guildford City Swimming Club's Charles Clarke has been competing at the Swim England South East Region Short Course 2023 Championships, which took place in Winchester last week. Charles finished first in the Junior age group for 100 Freestyle, becoming South East Regional Champion, and second in the Men's open 100 Freestyle. He also came Second in the Junior age group in the 50 Fly.
Charles, who achieved a number of personal bests, was delighted. He said: "Hard work and discipline pays off."
In the 100 Freestyle Charles is now ranked 6th in Britain for his age, and in the 50 Fly he is now ranked 9th in Britain for his age. Charles joined Collyer's from Tanbridge House School in Horsham.
Collyer's Head of Sports Academy, John Burroughs, said: "All within the Collyer's community are incredibly proud of Charles' swimming achievements. He is a credit to Collyer's and Horsham."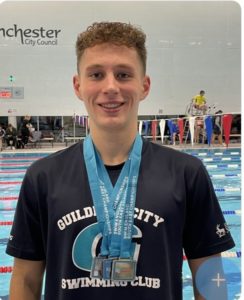 (photo courtesy of Guildford City SC)