News Music Students End Year On A High Note!
01.07.2021
Collyer's Music Practitioners students are celebrating the end of a very challenging year with streamed gigs replacing live sessions. Students performed as part of a band formed in their class, or mixed the live sound from one of the college's digital mixing desks.
During the past year, the students have constructed creative alternatives to live performance, which has included: webinars with music colleges instead of centre visits, remote studio recording sessions via Microsoft Teams, editing audio files from home using BandLab software and live online Q&A sessions with industry professionals.
Despite the logistical challenges, all units of the Music Practitioners course were run in full.
Head of Music Dan Page commented: "I'm exceptionally proud of our Music Practitioners students this year, who have persevered through these challenging times with flying colours. They all completed the course to a high standard while adapting to significant changes in how the course was intended to be delivered and experienced."
Music Practitioners is a level 3 contemporary music course that includes: sequencing, live sound, studio sound and advanced audio and MIDI editing. It can be taken alongside other vocational Level 3 and A-level programmes for progression onto a broad range of university choices and also gives a sound basis for a smooth transition to contemporary music colleges.
Rob Hussey, Collyer's Vice Principal (Quality & Curriculum) said: "Dan Page and these students have worked tirelessly to meet the demands of a tough year. They have performed wonderfully to meet the significant practical demands of the Music Practitioners course."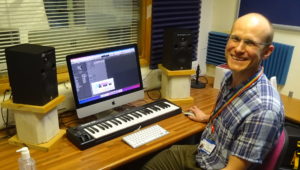 Dan Page