News Oli Makes The Right Moves
22.07.2022
Collyer's welcomed back chess champion Oli Howell. Oli, who was Collyer's Chess Champion, and recipient of the famous "Chess Board"  in 2020 and 2021, returned to the college to give a simultaneous display to Collyer's current chess team. He played six students at once and beat them all! The best game prize, chosen by Oli, was then presented to Ollie Martin.
Maths teacher Alex Taylor, a highly rated junior chess champion in his own right, was delighted with the competition: "Our current students were impressed and in awe of Oli's ability. His speed under pressure was superb. It really was an honour to have him back on board!"
Deputy Principal Steve Martell said: "Just watching Oli Howell play six games at once against quality opposition was incredible!"
Having won a hard-fought Collyer's Chess Championship this year, Ben Hurmanns was then presented with the coveted Chess Board trophy by Oli, who praised the ability levels of the class of 2022.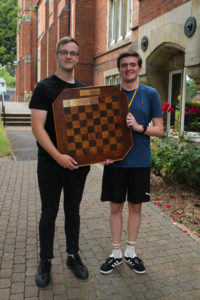 Alex Taylor added: "It's great to see how enthusiastic the students have been to play chess. The future looks very bright indeed and we are already looking forward to next season's competitions, which will see these students represent Collyer's across the region."